Sessions and Sail Songwriting 2024 - Oban to Barra
May 26th - June 1st 2024
Price: £1,385 per person; this price includes all food, accommodation, sessions and workshops throughout the trip.
Sessions and Sail are partnering with Shetland Songwriting Festival in 2024 to bring ace Scottish songwriters Jenny Sturgeon and Boo Hewerdine aboard, as we offer our first ever dedicated Songwriting voyage!
Join us aboard two-masted brigantine Lady of Avenel as we sail from Oban bound for the Outer Hebrides, taking inspiration from this special part of Scotland as we sail past the Sound of Mull, the Ardnamurchan Peninsula, the Small Isles and the various magical islands of the southern Outer Hebrides. Explore the anchorages and harbours we pause in along the way, finishing your trip in Castlebay, Barra.
Aboard, you can enjoy a welcoming and encouraging environment in which you may explore your own songwriting, collaborate with others, or draw inspiration from the voyage and the ever-changing scenes and moods of your surroundings.
You may choose to get involved in the sailing - helping the Lady's crew set sails, steer the ship, or discuss navigation over a coffee with the skipper; or you may prefer to watch the scenery glide past, or look out for whales, dolphins or eagles from the foredeck.
Rest up when you need to in your comfortable twin-berth cabin.
Develop your songwriting skills in the Lady of Avenel's bright saloon, (or on deck if the weather is good), through a series of workshops run by Jenny, Boo and the Sessions and Sail crew; these workshops will focus on the tools of songwriting - including song structure, lyrics, melody, meter, song subject, story songs and much more!
The ship will be your base and your floating home for a week-long voyage of exploration, creativity and music.
The trip and the workshops are open to EVERYONE, from complete beginners to experienced songwriters. No sailing experience is required.
​We look forward to having you join us!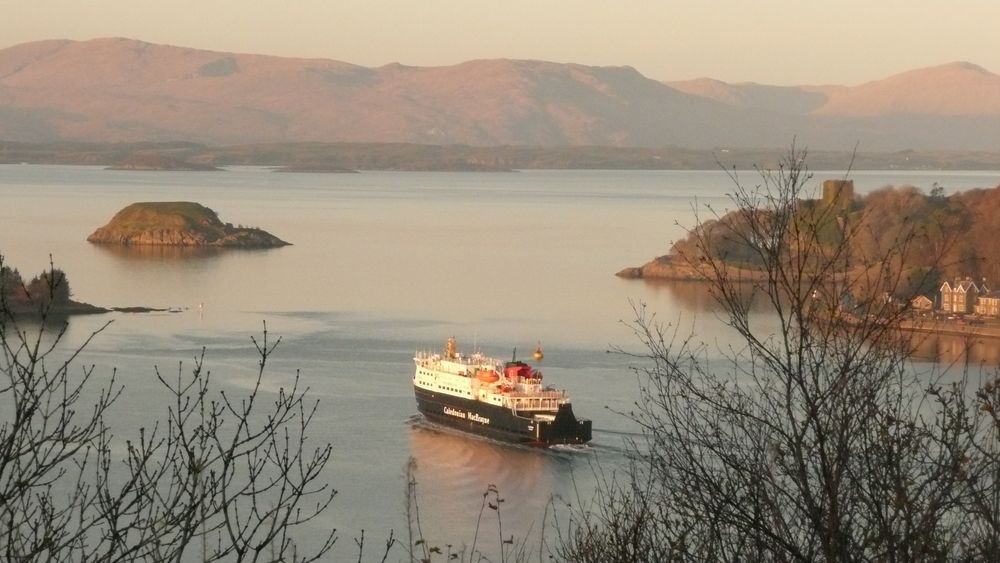 Oban
Start your voyage in Oban, gateway to the Hebrides! Known for its beautiful bay, regular CalMac ferries, a lively music scene, and the colloseum-esque MacCaig's Tower on the hillside, Oban is the ideal place to set out from.
Ardnamurchan
We will sail past Ardnamurchan Point, most westerly point of mainland Scotland; we may anchor somewhere near the point depending on weather and wind direction. Kilchoan and Sanna Bay are some of our favourite anchorages in this area.
The Small Isles
The Small Isles and the waters that surround them are some of our favourist places. Rum, Canna, Muck, Eigg, and the views north to the spectacular Cuillin ridge in Skye are dramatic and beautiful; the waters are rich with mackerel from June onwards, bringing dolphins and porpoises. We have often seen basking sharks and minke whales in this area.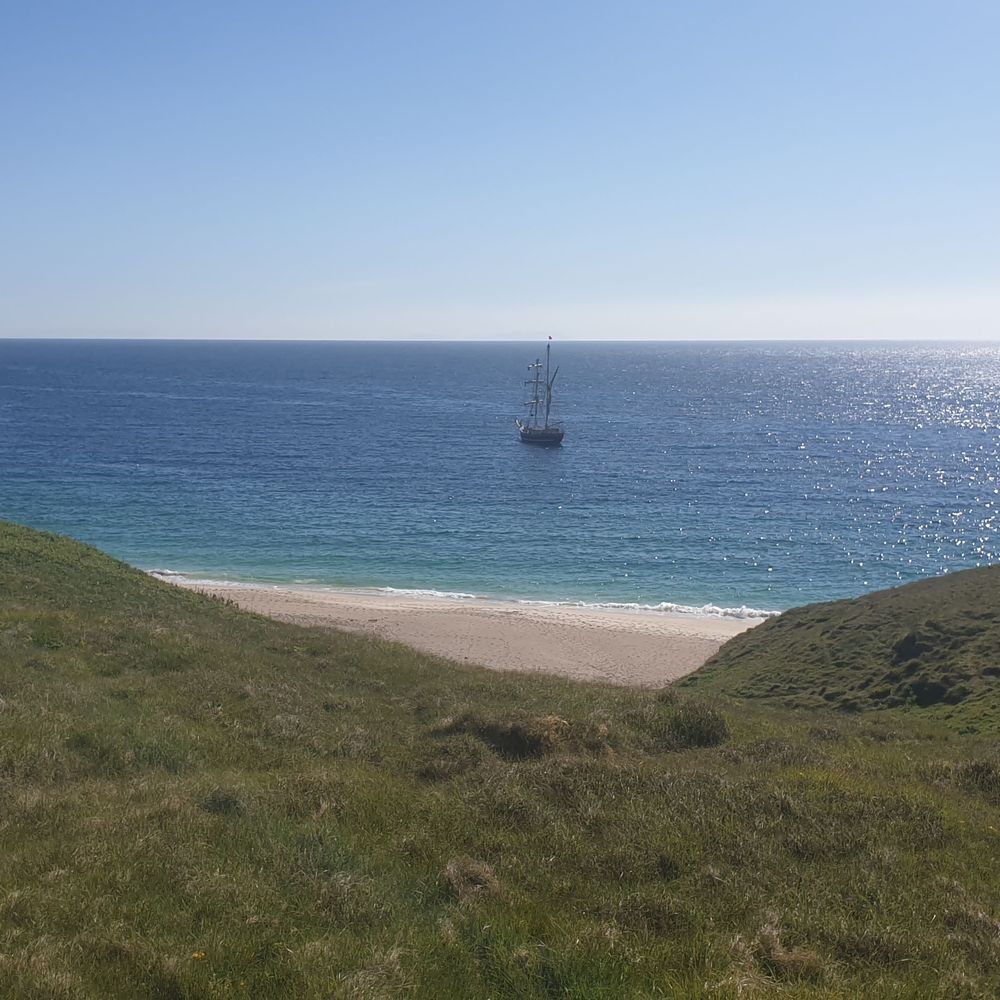 Mingulay
If the weather is fair, we may be able to visit some of the other uninhabited islands south of Barra - Pabbay, Sandray, Mingulay. Incredible numbers of grey seals, bottlenose dolphins, and a sense of melancholy reminiscent of other abandoned islands such as St Kilda. We have seen minke whales and humpback whales in this area.
Castlebay
Our trip will end in beautiful Castlebay, in Barra. The village nestles around the bay where Kisimul Castle, the refuge of the MacNeills, stands on a rock surrounded by water.
Who is the trip aimed at?
If you have an interest in songwriting, and the desire to learn new tools and techniques, this trip is for you. Instrumentalists are welcome of course, but we don't require you to play an instrument. 
No sailing experience is necessary, but those keen to participate will be encouraged to join in the sailing of the ship should they wish to, whether steering, helping set and trim the sails, or even climbing the mast for the finest view of all.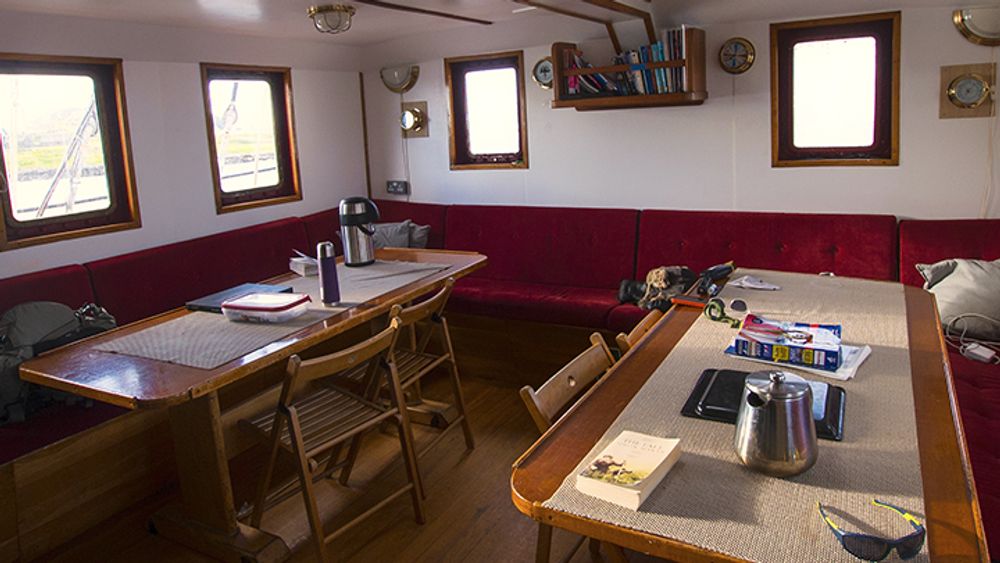 Accommodation on board
You will be allocated a berth in one of our six double cabins. For solo travellers, cabins will be allocated on a same-sex basis; if two people travelling together wish to share a cabin, we recommend booking early to ensure availability.
There are two showers and three toilets in the accommodation; these are shared.
Meals are prepared in the modern upper deck galley; these are of a high standard and prepared by our own chef. Meals, tea and coffee are included in the price of the trip.
The upper deck saloon provides an ideal place to socialise and, with the tables cleared away, will be the perfect session space for the evenings we spend aboard. Should the weather be fair enough, we may be able to play sessions on deck.
Likely Itinerary 
The following itinerary is a suggestion of how the trip may take form; all destinations are subject to change, are weather dependant, and are at the discretion of the Captain. 
Day 1
In Oban, we find the Lady of Avenel berthed at the North Pier pontoons. We find our cabins, stow gear then meet our shipmates over lunch. At 2pm we are welcomed aboard and given our safety briefing by the Captain and crew.
Leaving Oban Bay by the North channel, we sail out past Lismore, the Lady Rock and historic Duart Castle, arriving at our first anchorage in time for a drink before dinner.
 After dinner is cleared away, we gather in the Lady of Avanel's upper saloon and exchange a few songs and ideas, getting to know better our group, crew and tutors. 
Day 2
After breakfast - and a swim, if brave enough - we raise anchor and continue our voyage out the Sound of Mull. 
You may choose to help the crew set sail, stand on deck and contemplate your surroundings, or bring out a guitar, mandolin or other instrument and share some musical ideas as the Lady of Avenel makes her passage towards the Minch. 
We attend a songwriting workshop, led by Jenny and Boo, in the Lady's bright saloon.
In the evening, we drop anchor in one of our favourite spots near the Ardnamurchan Peninsula, depending on wind direction - Kilchoan, Sanna Bay or perhaps Loch Moidart. Dolphins, whales and basking sharks are regular visitors to these waters so we'll keep a keen look out for sea life both underway and at anchor. 
After dinner we share and chat about some of our musical ideas over a few songs. 
Day 3 
We sail on today to Canna, passing the Small Isles - Muck, Eigg and Rum. The stunning Cuillin range on Skye is to the north - either under a brooding dark cloud, or with the ridge crisp and stark against a blue sky! 
Underway, we take the chance to learn some more about the sails and operation of the ship from the crew of the Lady of Avenel; then, take the opportunity to consider our songwriting projects under the guidance of Jenny and Boo. 
Arriving at our anchorage off Canna in mid-afternoon, there is the chance to walk ashore and explore this island, perhaps with the focus on gathering ideas and material for a writing project! 
We spend the night at this anchorage off Canna's green and rocky shore. 
Day 4 
Today we cross the Minch!
Look out for the famous Blue Men, the tongue-twisting songsmiths of these waters; by legend, these mythical creatures challenge sailors to duel by verse. Will your skills measure up?! 
With 40 miles to cover, we arrive by evening at one of the myriad islands that surround Barra - Mingulay, Pabbay or Sandray if winds are fair; or the archipelago of the Oiteag Mór if conditions are less settled. 
There's plenty to be inspired by either way amid this stunning landscape! 
Day 5 
We spend today exploring ashore, or onboard working on our writing projects. 
Some of us may team up with other participants and arrange a song, either well-loved or new; others may prefer to work in solitude. Either way, we can rely on the guidance of our expert tutors to get the best out of our ideas! 
We move on in the afternoon, finding another overnight anchorage to be inspired by. 
Day 6 
It's time to start considering our final evening - tonight we plan to hold a last-night event where we may perform a couple of songs for each other. Our tutors and sailing crew may be persuaded to give us a performance as well! 
While we consider this, we have some stunning islands to cruise through. We've seen many seals, bottlenose dolphins and minke whales in these waters - and even humpback whales; we'll try to get the sails set one last time as we head for our last anchorage within range of Castlebay. 
I'm the evening we enjoy our last dinner together, then clear away and prepare for the performance in the Lady's cosy saloon! 
Day 7 
It's the last morning - we enjoy a breakfast aboard as the Lady of Avenel heads for the pontoons in Castlebay. 
Once tied up, we say our goodbyes and head off in our various directions - with instruments in hand, a wad of new songs, and a wealth of experiences, memories and new friends made.