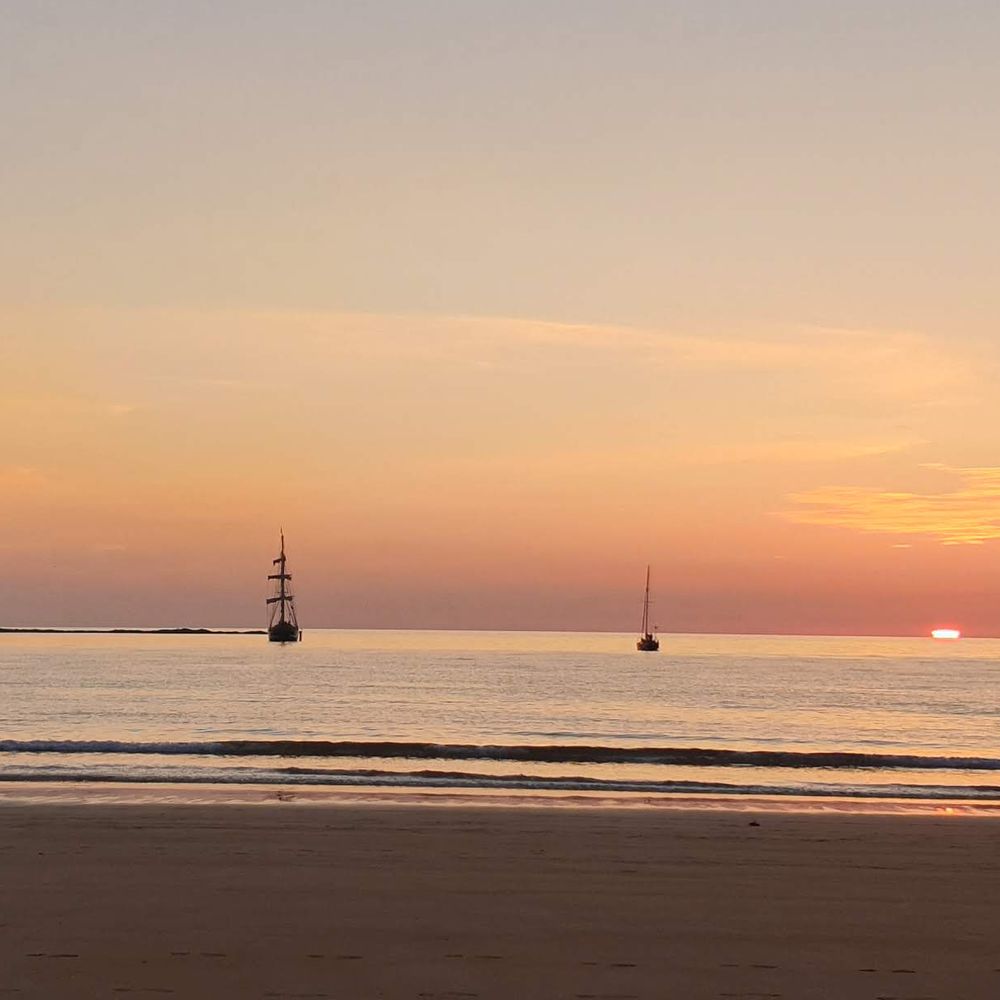 Sessions and Sail 2024 - Solstice A, Oban - Mallaig
June 18th - June 22nd
Price: £945 per person, including all food, accommodation, sessions and workshops.
Join us aboard the Lady of Avenel for this solstice trip sailing a coastal route on the West of Scotland on the longest day of the year.
This two-masted, Brigantine-rigged tall ship will be your home for four days as we step aboard in Oban and head out the Sound of Mull, visiting favourite spots such as Tobermory, Arisaig, and isolated Knoydart.
Watch the sun set in the north west, only to rise again four hours later with nothing darker than twilight in between. Enjoy tunes and sessions in bays, bars and village halls at this very atmospheric time of year!
The ship will be your base for a voyage of exploration and music with sessions, workshops, sailing and more; throughout the trip we will enjoy locally sourced food, beautifully prepared by our on-board chef.
In addition to the crew, we will carry two sail-with tutors, dedicated musicians who will be able to run workshops, help keep the sessions going, and give dedicated assistance with any new techniques, tunes, songs or more that you might like to learn.
Some of our likely destinations are outlined below.
We look forward to having you join us on this voyage!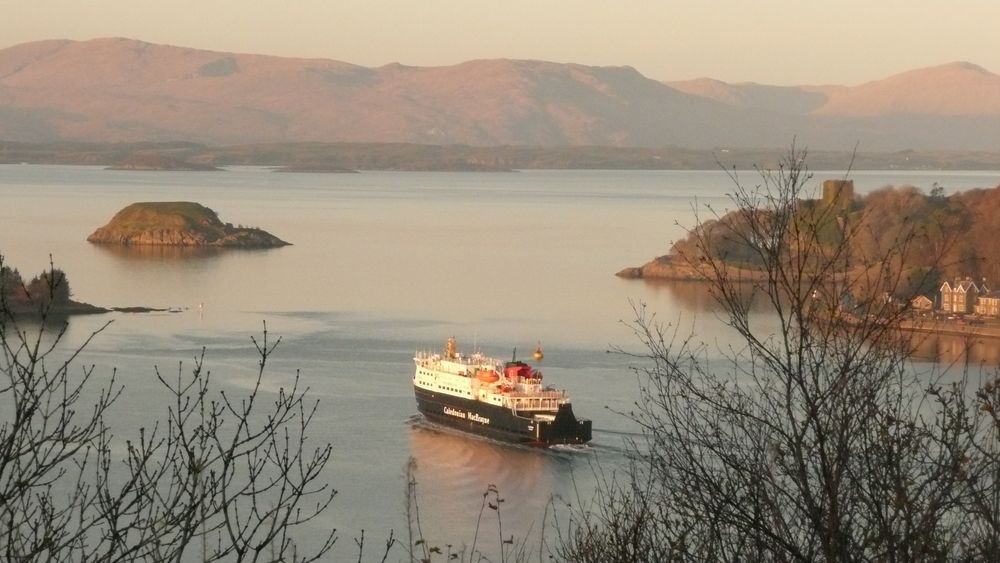 Oban
Start your voyage in Oban, gateway to the Hebrides! Known for its beautiful bay, regular CalMac ferries, a lively music scene, and the colloseum-esque MacCaig's Tower on the hillside, Oban is the ideal place to set out from.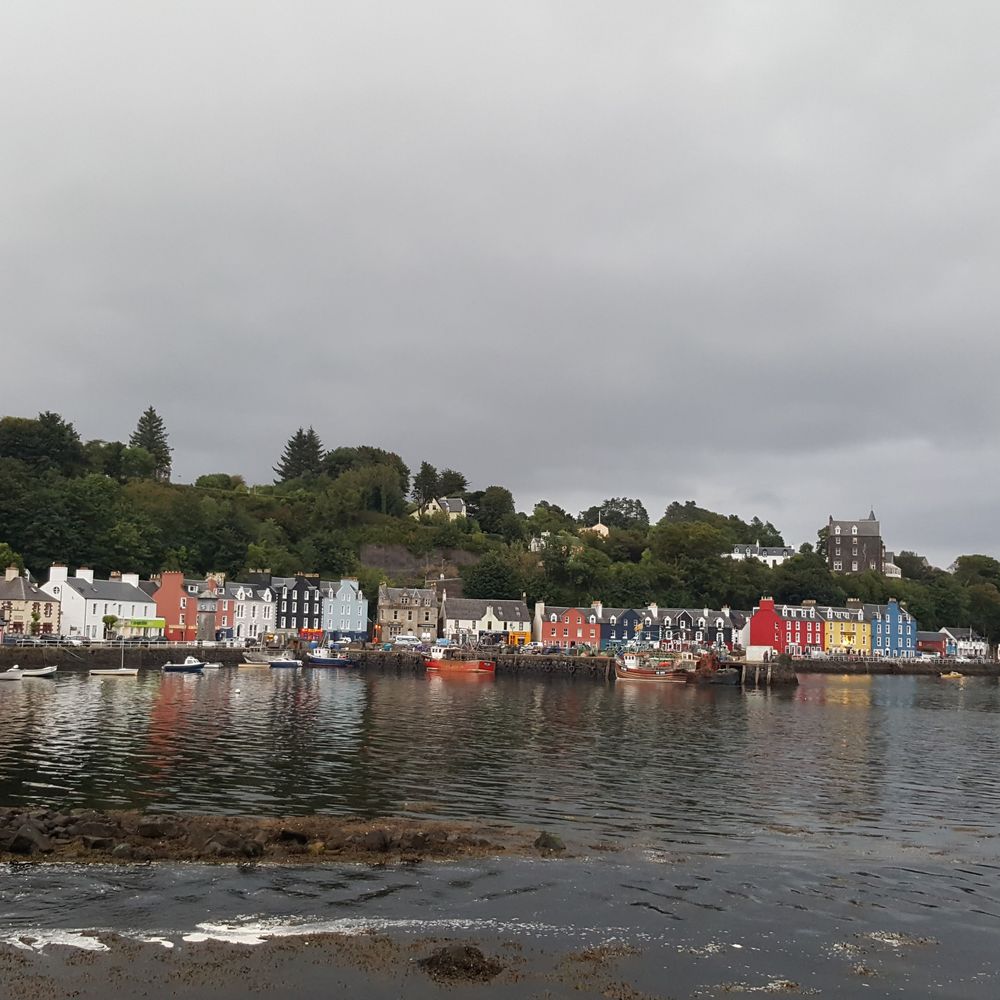 Tobermory
At colourful Tobermory, we may find somewhere to play a tune or two... >coughMishnish<...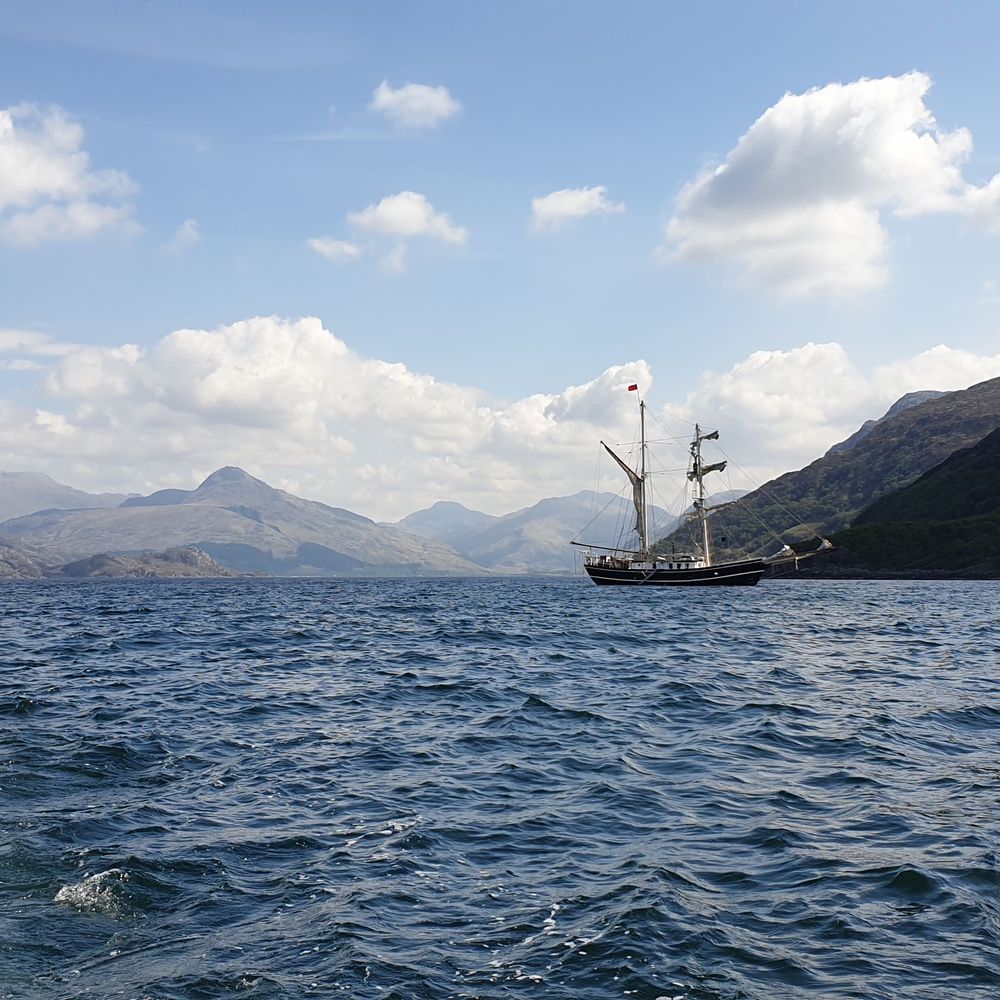 Inverie
In the stunning Loch Nevis, Inverie is considered the UK's most isolated village. On the Knoydart Peninsula, and reachable only by sea or by a long hike over the hills, we have enjoyed many good sessions in the famous Old Forge Inn or in the Knoydart Community Hall.
Who is this trip aimed at?
If you are a keen musician playing at any level - whether beginner, intermediate or expert - with an interest in the traditional and folk music of Scotland, this trip is for you.  No sailing experience is necessary, but those keen to participate will be encouraged to join in the sailing of the ship should they wish to, whether steering, helping set and trim the sails, or even climbing the mast for the finest view of all.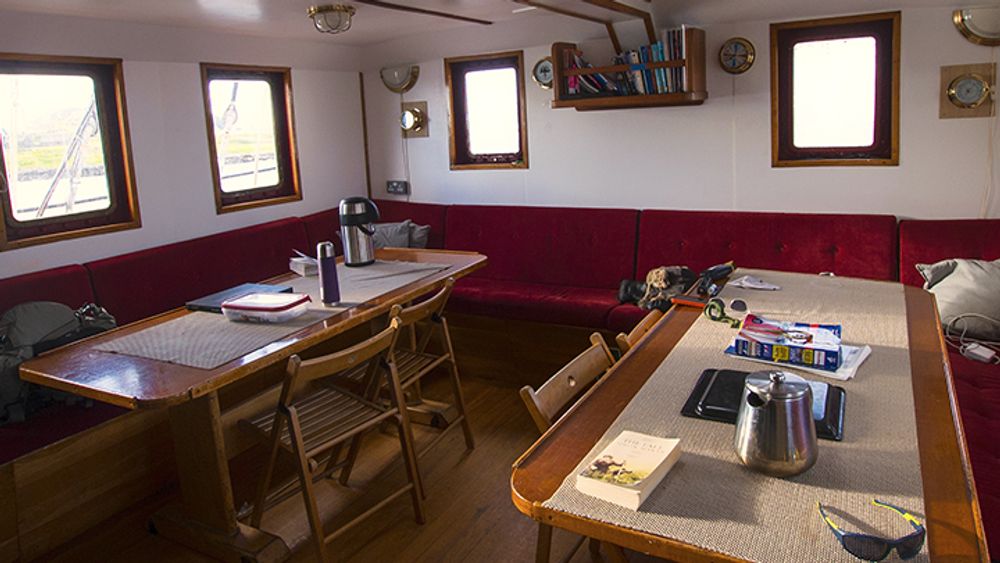 Accommodation on board
You will be allocated a berth in one of our six double cabins. For solo travellers, cabins will be allocated on a same-sex basis; if two people travelling together wish to share a cabin, we recommend booking early to ensure availability.
There are two showers and three toilets in the accommodation; these are shared.
Meals are prepared in the modern upper deck galley; these are of a high standard and prepared by our own chef. Meals, tea and coffee are included in the price of the trip.
The upper deck saloon provides an ideal place to socialise and, with the tables cleared away, will be the perfect session space for the evenings we spend aboard. Should the weather be fair enough, we may be able to play sessions on deck.
Likely Itinerary 
The following itinerary is a suggestion of how the trip may take form; all destinations are subject to change, are weather dependant, and are at the discretion of the Captain.
Day 1 

You meet the 'Lady of Avenel' alongside the North Pier pontoons in Oban Bay, where the crew welcome you aboard; you find your cabin, are given a tour of the ship and a safety briefing from the Captain. 
We leave the pontoon and sail out, headed for Loch Aline, a lovely sheltered spot where we can drop an anchor and get to know our group over dinner, a drink and a few tunes.

Day 2 
After breakfast, we raise anchor and sail out into the Sound of Mull. We're bound for Tobermory; if the wind is fair, we'll set sails en route. The distance is modest so there is time for a wander round Tobermory by day before heading back to the Lady for dinner; later, we make a good-going session in one of Tobermory's cosy pubs.

Day 3 
Today we're headed round Ardnamurchan, the westernmost point of mainland Britain. This isolated lighthouse makes a stark background - we have frequently spotted dolphins, basking sharks and minke whales in theses waters so keep your eyes peeled!
If the wind is fair we will sail the Lady, and you can further your knowledge of how the ship works, and how we set and put away her 11 sails. Take a shot on the wheel, keep lookout or help hauling on sheets and haliards! If the weather is dry we may be able to play tunes on deck as we sail along.
We may decide to head for beautiful Airisaig tonight - or we may choose one of the more isolated wild anchorages in the area - Castle Tioram, Kentra Bay, Sanna Bay, the list goes on...
Either way, by dinner time we're anchored somewhere truly special to enjoy the longest day of the year.

Day 4 

In the morning we have breakfast, then raise anchor and sail on. We're headed for Inverie Village, on the Knoydart peninsula, mainland Scotland's most remote village. The community here is spirited and fun; they join us to help celebrate the last night of the voyage either in the famous Old Forge bar or in the Knoydart Community Hall.

Day 5 
It's a short passage across to Mallaig Harbour, where some of our group are leaving us today. We have breakfast together as we cross the mouth of awesome Loch Nevis; a last tune or a farewell before leaving the Lady and setting off on the next adventure!
Travel 
Oban
Oban is connected by bus from Inverness/Fort William and Glasgow – see Citylink for more information. http://www.citylink.co.uk 
There are trains  daily from Glasgow www.thetrainline.com/www.scotrail.co.uk 
If you choose to drive, parking in Oban may need to be organised in advance. 
We recommend confirming travel arrangements as early as possible to avoid price rises and availability problems
Mallaig
Mallaig is connected by bus via Fort William http://www.citylink.co.uk, one of the world's most scenic rail journeys can take you there direct from Glasgow Queen Street Station www.thetrainline.com/www.scotrail.co.uk or, if you feel like adding to the experience, you could take the Jacobite steam train to http://www.westcoastrailways.co.uk/jacobite/jacobite-steam-train-details.cfmFort William. http://www.westcoastrailways.co.uk/jacobite/jacobite-steam-train-details.cfm  
We recommend confirming flights and travel arrangements as early as possible to avoid price rises and availability problems.